Attention Colorado REsidents
Colorado joins California, New York and Maine as states with stricter catalytic converter regulations. Effective January 1, 2021, a new regulation will impact all aftermarket catalytic converter repairs performed in the state of Colorado.
Legislative Details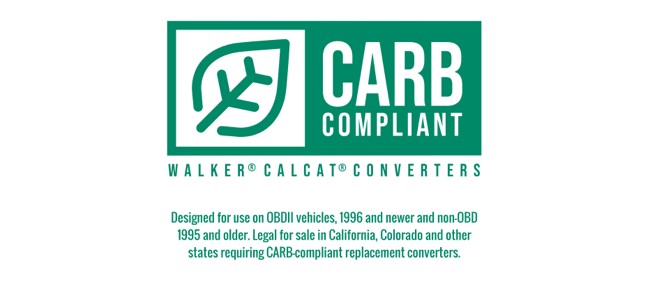 According to the Colorado Department of Public Health and Environment, only the sale and installation of new aftermarket catalytic converters manufactured to California Air Resources Board (CARB) standards will be permitted in the state of Colorado.
This applies to all aftermarket catalytic converter repairs in Colorado, regardless of the vehicle's OEM emissions certification. Federal certified vehicles as well as California (also known as ARB, 50-state) emissions vehicles will require aftermarket catalytic converters manufactured to comply with CARB emissions standards to be installed.
Replacing a Catalytic Converter in Colorado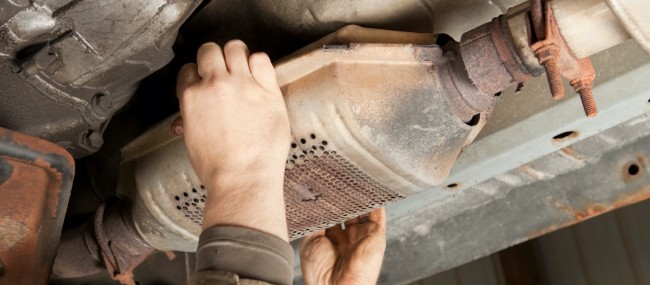 Walker® makes it easy to choose the right replacement catalytic converter for your vehicle that meets Colorado's requirements. Walker CalCat® converters feature catalytic technology providing the proper catalyst material and design - including the right loading of precious metals paired with a precise OE-style, substrate coating process and a high-technology washcoat for consistent performance to meet CARB emissions standards.
Starting January 1, 2021, follow these steps to identify the part number you need to complete the repair:
For any pre-OBD vehicle, simply use the Walker Colorado Converter Catalog to look up the proper part by the year, make, model, and engine configuration. Under CARB standards there is no Engine Family Number (EFN) verification required for pre-OBD vehicles (most 1995 and older vehicles).
For any vehicle 1996 and newer, use the year, make, model, engine, and EFN Number.
- First, locate the Vehicle Emissions Control Information (VECI) label to identify the EFN.
- Then, lookup the part by Year, Make, Model, Engine and EFN in the Walker Colorado Converter Catalog to find the correct CARB-compliant converter.
Some vehicle catalog listings may have several different EFNs and some may require different converters.

Identifying a Walker CalCat Catalytic Converter
A CARB-compliant aftermarket catalytic converter will have an Executive Order (EO) number/stamp, part number, date, and flow direction arrow on its body. The stamped number on the converter body must match the correct EO number listed on the California Air Resources Board website for approved replacement aftermarket catalytic converters.
Identify a CARB-compliant converter by referencing the details stamped on the shell of each Walker CalCat catalytic converter.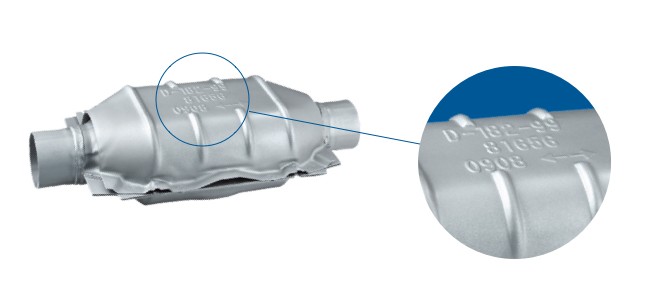 What Is Different about a CARB-Compliant Catalytic Converter?
Catalytic converters feature a substrate containing precious metals like platinum, palladium and rhodium. These precious metals serve as catalysts that process harmful raw exhaust gases and convert them into the less harmful gases of water, carbon dioxide and nitrogen. CARB-compliant catalytic converters typically use a higher precious metal load due to longer service life requirements in the CARB standards, as well as mass-based emission standards for CARB rather than the conversion efficiency standards used by EPA.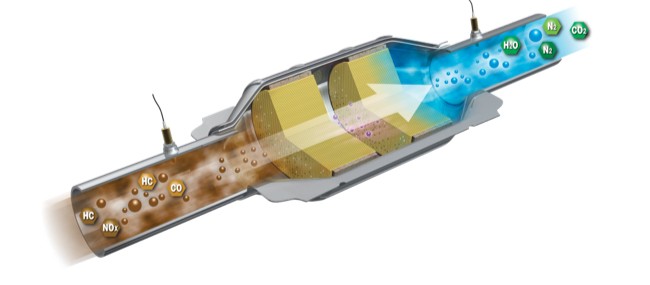 What Happens if I Don't Use a CARB Converter?
If you live in Colorado and fail to have your technician install a CARB-compliant catalytic converter when completing a converter repair, you'll likely fail Colorado's emissions testing, as CARB-compliant converters produce a lower level of harmful emissions that pass through the exhaust system. To pass the inspection, your technician will need to install a CARB-compliant converter.
Learn more about CARB-compliant catalytic converters, find the right car part, or find a local repair shop today.
The content contained in this article is for informational purposes only and should not be used in lieu of seeking professional advice from a certified technician or mechanic. We encourage you to consult with a certified technician or mechanic if you have specific questions or concerns relating to any of the topics covered herein. Under no circumstances will we be liable for any loss or damage caused by your reliance on any content.
Other Parts For Your Vehicle
Walker® offers a wide variety of auto parts for all your vehicle needs.
Check them out today!