The Significance of the VECI Label 
Use The VECI Label as Your Guide for Converter Replacement
The Vehicle Emission Control Information (VECI) label is extremely important when replacing the catalytic converter, completing emissions inspections, or when ordering emissions control parts. For a converter replacement, it's necessary to determine the specific emissions system installed by the OE manufacturer, and that can be found on the VECI label.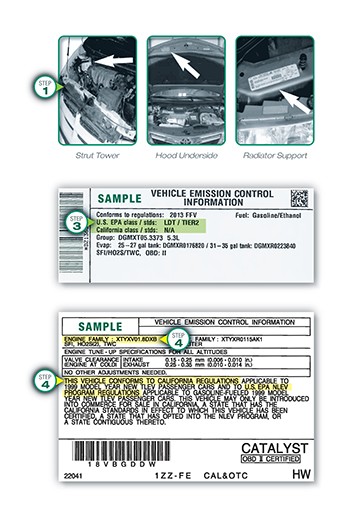 STEP 1: LOCATE THE LABEL
The VECI label is typically located on the underside of the hood, on a strut tower, a radiator support, fan shroud or the firewall. 
STEP 2: DETERMINE EMISSIONS CERTIFICATION
A vehicle can be either Federal/EPA Emissions Certified or California/50 State Emissions Certified. A vehicle is a California Emissions Certified model if the VECI label references "California," "50-State," "CARB" or "ARB." To ensure proper fit and determine the state-mandated aftermarket replacement converter, this is a necessary step in the application lookup process. 
STEP 3: LOCATE THE ENGINE FAMILY NUMBER
The Engine Family Number (EFN) is displayed on every VECI label. This can also be called the Emission Family Code or Test Group Number.
STEP 4: CONSULT STATE REGULATIONS
California, Colorado, New York and Maine have active programs in place to oversee aftermarket parts state regulations. Be familiar with your state's regulations, even if you do not operate in California, Colorado, New York or Maine, as regulations often change.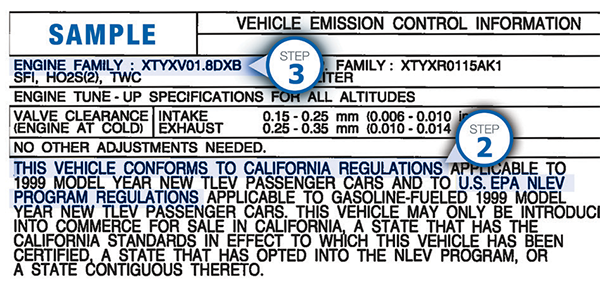 Learn more about QUALITY EXHAUST PARTS, FIND THE RIGHT CAR PART, or FIND A LOCAL REPAIR SHOP today.
The content contained in this article is for informational purposes only and should not be used in lieu of seeking professional advice from a certified technician or mechanic. We encourage you to consult with a certified technician or mechanic if you have specific questions or concerns relating to any of the topics covered herein. Under no circumstances will we be liable for any loss or damage caused by your reliance on any content.