WHY YOU SHOULD CHOOSE A STAINLESS STEEL MUFFLER 
CHALLENGE: OVERCOMING EARLY MUFFLER RUSTING WITH SINGLE SHELL DESIGN
Traditional mufflers use a dual-shell design made of two sheets of thin, aluminized low-carbon steel – one layer to seal the interior and another to cover weld points for a cleaner look. The primary disadvantage of this design is that it is prone to corrosion due to the potential for moisture becoming trapped between the two layers, as well as the inherently weaker rust-resistance of low-carbon steel when compared to stainless steel. Many of these mufflers also are universal in design, adding complexity to the installation process by requiring modifications from the service provider.
SOLUTION: WALKER QUIET-FLOW® SS MUFFLER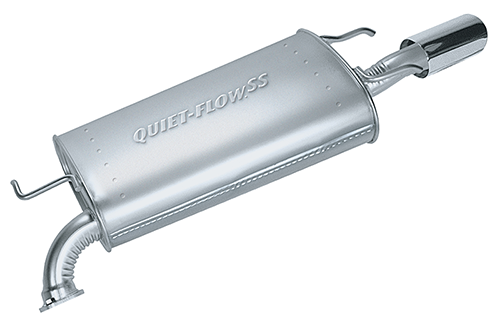 As the only full-line aftermarket manufacturer of stainless steel mufflers in North America, Walker's Quiet-Flow SS muffler addresses these challenges by utilizing a direct-fit, single shell, stainless steel muffler design. The durability of the single shell Quiet-Flow proves that two layers can be less than one.

Stainless Steel Durability 
The Walker Quiet-Flow muffler's design allows it to resist rust-out more than three times longer than competing designs. Instead of a shell made of two sheets of thin, aluminized carbon steel, the Quiet-Flow uses a single, heavier-gauged, 100% stainless steel wrap. This feature leaves the muffler less susceptible to corrosion, while also helping to better control sound. OE-style spot welds and spun-locked domed heads contribute to improved structural stability and durability for long service life. 
Precise OE-Style Fit 
Designed using OE-style cross sections, the Walker Quiet-Flow SS muffler provides one thing most competitors can't – OE-style fit. Engineered to match the pipe routing, dimensions and hanger placement of the OE muffler it is replacing, the Quiet-Flow offers the benefit of simple installation and precise, OE-like placement.
Learn more about quality exhaust parts, find the right car part, or find a local repair shop today.
The content contained in this article is for informational purposes only and should not be used in lieu of seeking professional advice from a certified technician or mechanic. We encourage you to consult with a certified technician or mechanic if you have specific questions or concerns relating to any of the topics covered herein. Under no circumstances will we be liable for any loss or damage caused by your reliance on any content.