Catalytic Converter Basics
Designed to convert harmful emissions produced by an internal combustion engine into less-harmful elements, the catalytic converter is a key part of a vehicle's exhaust system. A failing or damaged catalytic converter can cause a host of problems, including poor engine performance and the check engine light illuminating.
Converters don't fail on their own. It is important to complete a full exhaust inspection and correct any other issues such as cracked manifolds and exhaust leaks prior to replacing the converter. This will ensure the root cause for the check engine light has been resolved for emissions code concerns and keep the engine running on all cylinders. To learn how to install a Walker® Ultra® Direct-Fit Catalytic Converter, follow along step-by-step as Walker part number 16581 for the 2010-2014 Chevrolet Equinox and GMC Terrain is put on a vehicle.
Steps for Replacing a Catalytic Converter
Step 1:
Remove the cold air intake.
Step 2:
Remove the engine cover. Reinstall the oil cap to avoid engine contamination.
Step 3:
Remove the engine cover bracket to access the exhaust manifold.
Step 4:
Remove the oxygen sensor.
Step 5:
Remove the heat shield.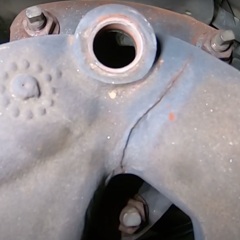 Step 6:
Inspect the exhaust manifold for cracks before installing a new converter. If it is cracked, the manifold must be replaced or it will cause a non-warrantable converter failure. (This photo shows what a crack looks like; this article doesn't describe how to replace an exhaust manifold.) Remove and save the nuts from the intake flange.
Step 7:
Remove the engine support bracket.
Step 8:
Remove the catalytic converter.
Step 9:
Line up the new catalytic converter.
Step 10:
Loosely install one top nut to secure the catalytic converter.
Step 11:
Make sure the engine bracket is attached to the new converter hanger and that the bolt is attached to the new converter hanger. Failure to use the bracket could lead to premature failure.
Step 12:
Reinstall the downstream oxygen sensor.
Step 13:
Complete the catalytic converter installation:
Tighten the converter inlet flange nuts and torque to the manufacturer's specifications.
Reinstall hardware for the outlet flange.
Tighten the converter bolts and torque to manufacturer's specifications.
Step 14:
Reinstall the heat shield and oxygen sensor.
Step 15:
Reinstall support bracket.
Step 16:
Reinstall the engine cover and the cold air intake.
Finding the Right Catalytic Converter
Whether you need an EPA-compliant converter or a CARB-compliant replacement catalytic converter, Walker has the right converter for your repair. Walker offers premium direct fit and universal catalytic converters for both federal emissions-certified and CARB vehicles. Use Walker's part finder to find your catalytic converter.
Walker Ultra® catalytic converters are engineered to meet EPA emissions requirements. Available for import and domestic OBDII (1996 and newer) vehicles, you can count on Walker catalytic converters for industry-leading fit and performance to keep the check engine light off for emissions codes.
Walker CalCat® catalytic converters are designed to comply with CARB requirements in California, Colorado, Maine and New York. The catalytic technology provides the proper catalyst material and design - including the right loading of precious metals and a high-technology washcoat to meet the most stringent emissions standards.
---
Learn more about quality exhaust parts, find the right car part, or find a local repair shop today.
The content contained in this article is for informational purposes only and should not be used in lieu of seeking professional advice from a certified technician or mechanic. We encourage you to consult with a certified technician or mechanic if you have specific questions or concerns relating to any of the topics covered herein. Under no circumstances will we be liable for any loss or damage caused by your reliance on any content.